The 7 Deadly Sins
In this article we will talk about the 7 Deadly Sins that we should try to avoid when setting up a Retro American Diner, since in the world of decoration (and this rule extends to all areas) it is very important to know the rules, in order to know when and how to break them. While it is true that we will emphasize the Classic American Diner Restaurant, these rules will be applicable to any line of business set at this same time, be it Diner, Roadhouse, retro cafe , vintage ice cream parlor o American pastry.
1-
Concept
- It seems like a simple idea, and it is in principle, but it is the first mistake that is usually made the 7 Deadly Sins and this is a basic error, if we are not clear about the concept and we set good foundations (good foundations) we will hardly reach the top, so, when it comes to mounting a American diner from the 50's It is not enough to take everything from around 1950 and put it in a shaker and shake it, otherwise all we will get is a trip… .. nowhere.
- At this point we must determine the concept we want to carry out, for this there are different formulas, we can choose the area, do a market study and based on this structure a concept for which we see a niche in the market or, If we are clear about the concept, choose an area through a market study in which we find a geographic market niche for the concept we intend to carry out.
- But isn't the concept Retro American Diner? How this guy talking? I do not understand anything!!
- I will try to explain myself, within the golden age there are numerous currents of retro decoration, and some of them can be complicated to "paste" with depending on which turn, so we must be clear if our turn will be bar, bar restaurant, restaurant Diner, hamburger shop, cafeteria, ice cream parlor, pastry shop, etc ... once the turn is defined, we must choose a concept that is consistent, for example, style decor Route 66, Classic American Diner, a "heavier" style like HD (Harley-Davidson) or one more "rogue" roll like el Café Racer (original England move), or you're more of the diner «PinUp» style with bold and varied colors?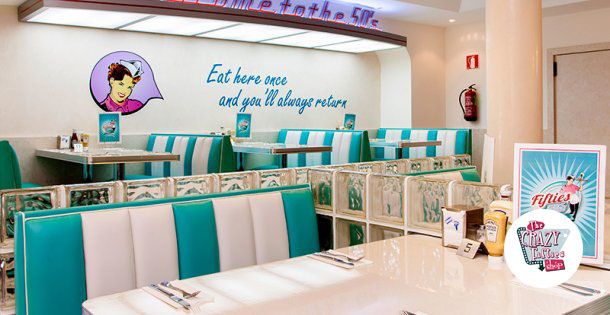 2-
Coherence
- Consistency or common sense, it is something basic in any business, but as he said Voltaire » Common sense is not common. »Or as I most like to describe it«Common sense is the least common of the senses.»And that makes it the most common mistake of the 7 Deadly Sins.
- We will be able to mitigate this point a lot if we have well defined the previous point «the concept», so if for example we decide to decor en Route 66 let's not put one Vespa As part of the decoration, it would be like serving paella on the menu, personally I love both but it does not proceed within this concept…. It should be noted that this point (in my humble opinion) is the second most important behind point 3 and as we will see throughout this post all points will rotate around it at all times.
3-
Food
- This point will be linked to 1 and 2, (concept + coherence) so if we have decided to recreate the typical American road bar, we must inform ourselves a little to know what to serve and what not, surely we will discover that we can serve a good cabbage salad or «Lobster sandwich * and we can / should even be a bit flexible at this point trying to adapt it to the current time and geographical area, for example, we can perfectly serve croissant along with coffee for breakfast, but do not include fideua or potato omelette in the menu Let's remember the previous point 2… coherence. Here you have an entry from another blog where they talk about 10 typical American foods, which I really find super interesting: 10 American dishes that are not exported
* Consider that Americans call any Sandwich Sandwich, as in Mexico is called Cake.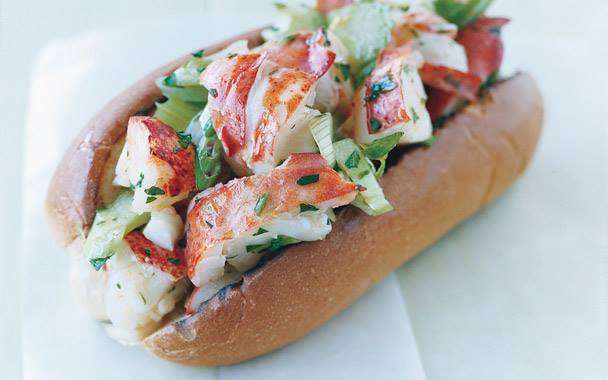 - Within this section and following the line of coherence, I must confess that I declare myself a staunch enemy of prepared, precooked or frozen food, for me it is the worst of the 7 Deadly Sins. How he defends "my great friend" Gordon Ramsay (which has been awarded 16 Michelin star) the products to cook food must be fresh and of quality, if we are going to serve hamburgers try to get fresh ground meat (and by fresh I do not mean frozen), as well as fresh vegetables and quality ingredients to prepare our own burgers, if we want to serve BBQ ribs let's do it ourselves with our own recipe, any diner can stay at home and eat the ribs they sell at the supermarket, but he goes to our establishment because he wants something different and at this point he deserves our respect and dedication.
- Quality food should be served in quality porcelain or glass pieces, but for God's sake, no plastics!
- Personally I think this is the most important and strongest point of the 7 Deadly Sins… In fact I am convinced that you could skip the other 6 with some dishes that take away the meaning and still become the «King of Mambo», now, if your dishes do not LITERALLY make tears of emotion come, then we must follow these rules .
4 -
Furniture
As we discussed in a previous post called «Decorating Ideas American Diner»And from which I make the following extract… [The first impression of feeling the quality and comfort of a good Retro American diner bench, American bar stool o chair diner will be the most important weapon to impregnate our clients with confidence, as well as the importance of having a good structural support on which the service will be carried out and this will be defined by the American retro diner tables since the diner will need to feel the solidity and security in their hands] ...
So we are going to develop the furniture items, which we must avoid in order to avoid falling into one of these the 7 deadly sins.
When the diner sits in the banks (booths) It must feel like you are on a classic car from the 50's, that is, floating, and it is that the Banks American Diner they were then manufactured with the same system as the vast majority of automobiles. Here we leave an image of the famous system Flex-O-Lator which is still used in the authentic Banks American Diner.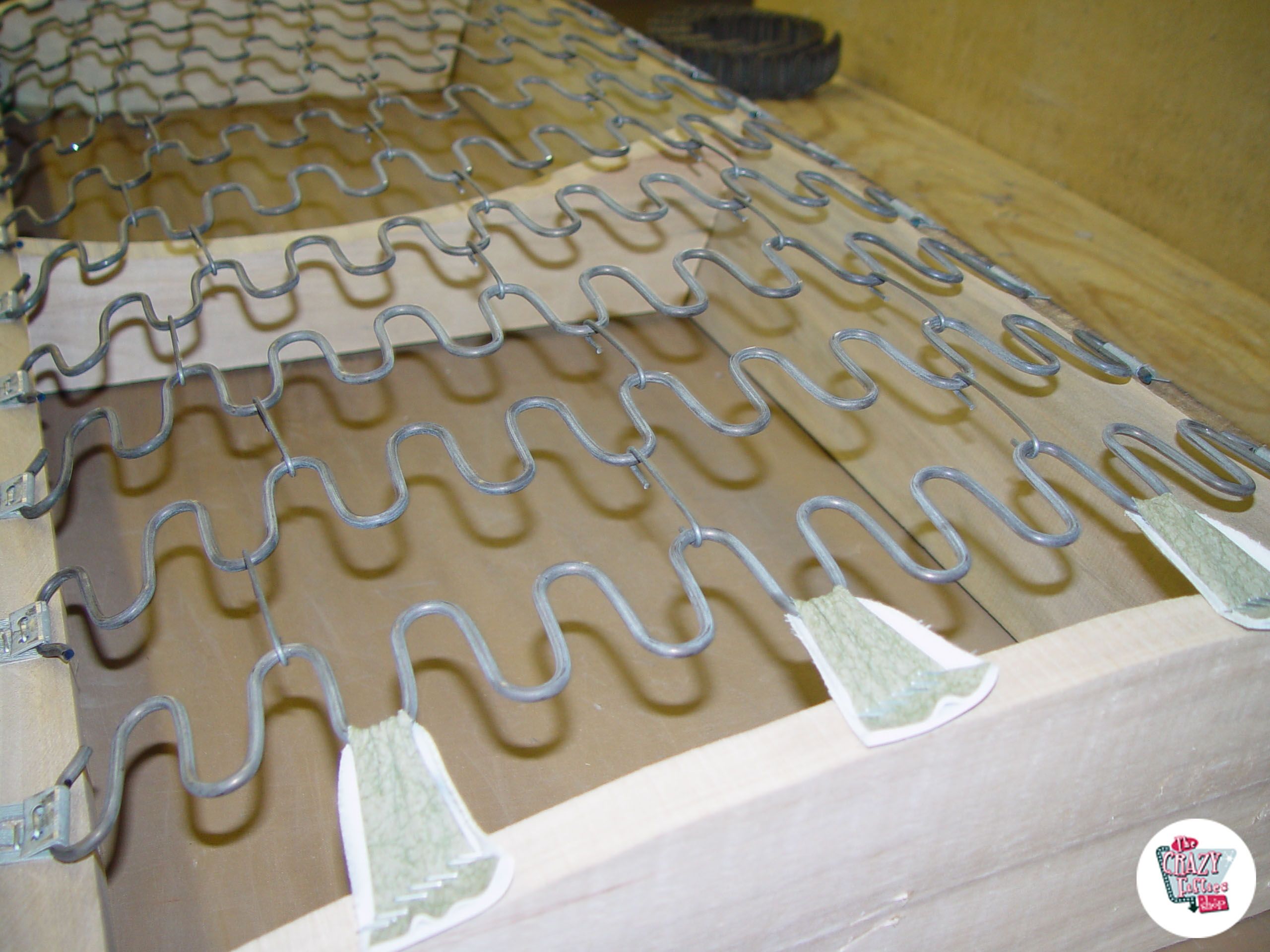 American bar stools unlike the Irish, English or European (same time) were characterized by wide chrome feet and profiles, as well as a good stool must have a chrome profile about 15-20 cm.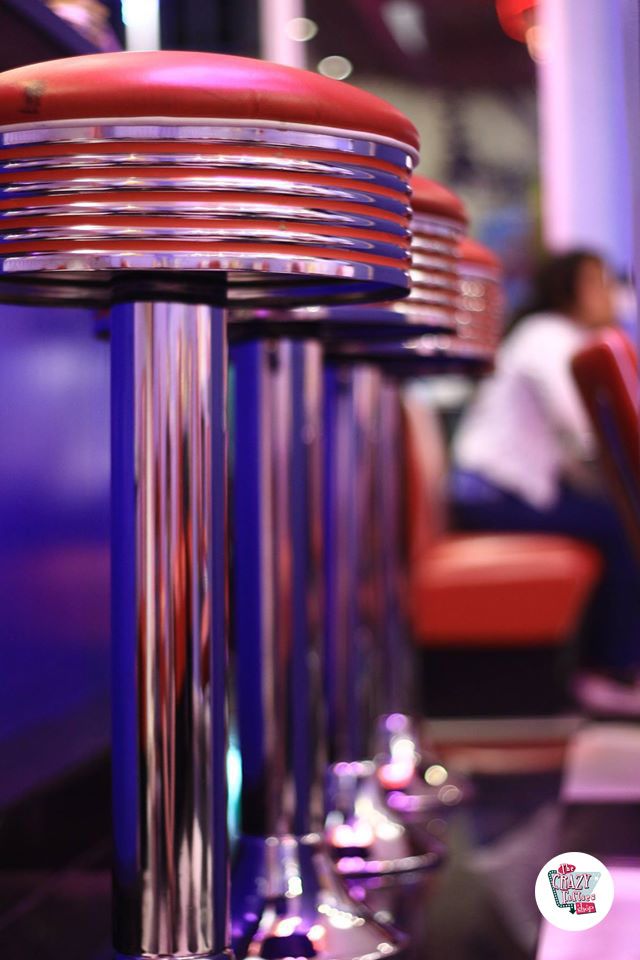 We must bear in mind that at that time the materials that were commonly used were iron and wood, so the furniture Diner it was heavy «heavy», keeping this in mind is not conceived a American Diner chair made of aluminum or light in weight, it has to be heavy and give a feeling of robustness, preferably with 5 cm thick seats.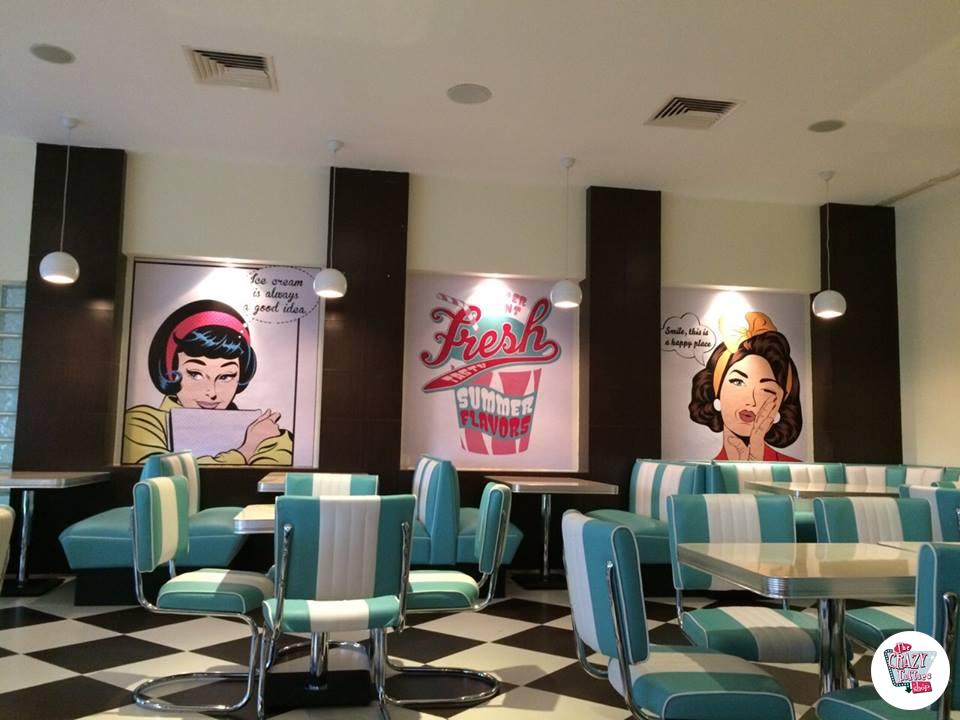 The tables, like the rest of the furniture, were made with aluminum side protectors that protected the edges of the tables from blows, these profiles, like the tabletop, were wide, currently the standard measure that is usually used is 30 mm board with a 55 mm striped aluminum profile, although we could use 30 mm boards with a 30 mm profile, I personally do not recommend it, as they look "thin" visually. In any case, the profile must be wide and made of scratched aluminum (or other chrome or polished metal), no gray plastic or smooth metal, this point is as debatable as putting reggaeton in an American diner.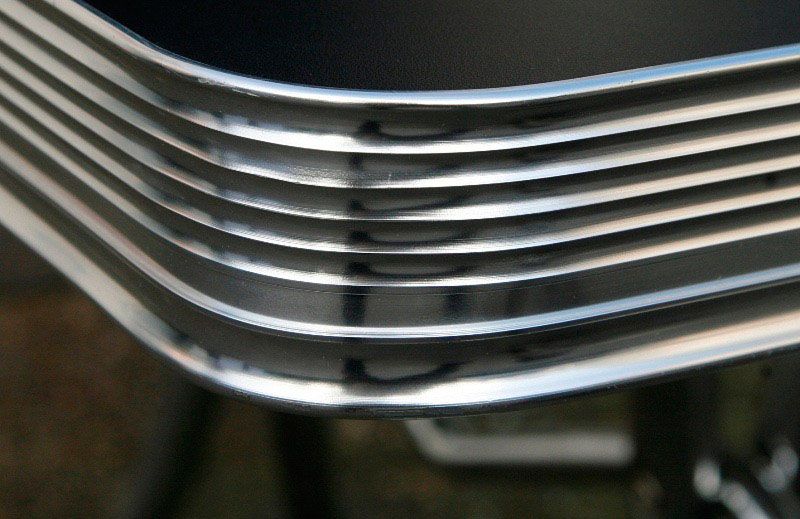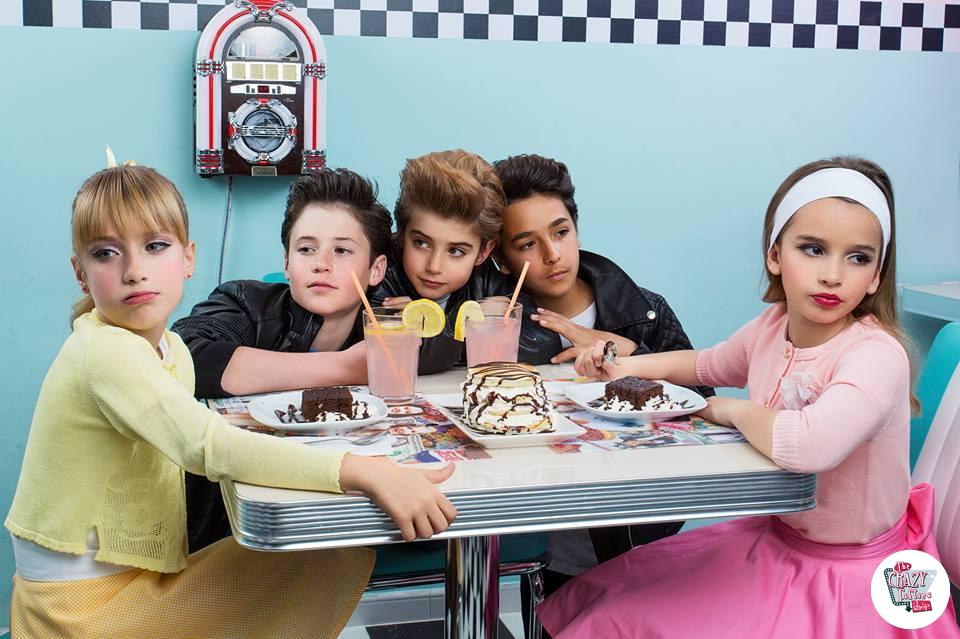 5 -
Vinyl
How would my "friend" say Mauricio Colmenero, But what eeeeeeees this ?! And it is that for some time here, I have been observing an exorbitant abuse with vinyl in this type of decoration, let's see, (as Freddy krueger said) we go in parts. Let's start from the basis that at that time the labels were painted, they were not vinyl, come on, that the only vinyl they knew was that of records! But beyond this, with consistency (see point 2) we can use vinyl as a great ally. We can vinyl a wall such as the wall at the end of the road of this image. But let's not come up and try to vinyl the entire facade, walls etc…. I do not want to be tiresome but I refer back to point Nº2 ... which is the most common mistake of the 7 Deadly Sins...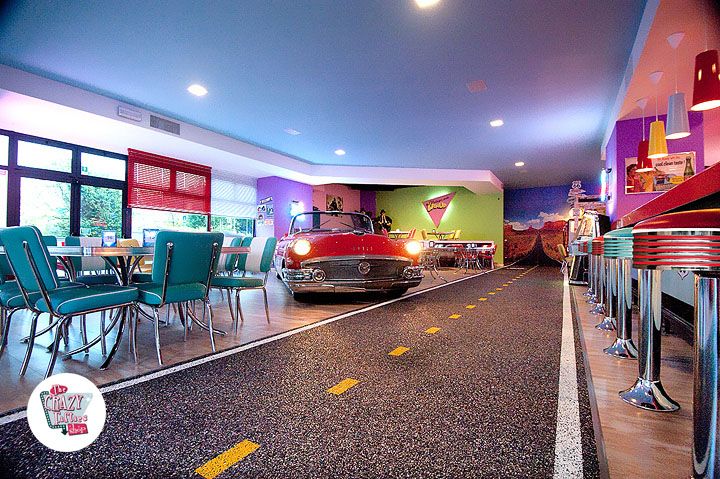 6 -
Lighting
As we said at the beginning of the 7 Deadly Sins «We must know the rules to know when and how to break them», for example if we look at the previous image, the ceiling is flat, in blue and with recessed lights… ..not a single one retro lamp Neon, but as you will see they are recreating the Highway Route 66... .. the ceiling is blue because of the sky, obviously there should be no hanging lamps ... this is exactly what we mean by "we must know the rules to know when and how to break them" so unless we intend to recreate an outdoor space we must place retro lamps inside, the classic retro lamps They are characterized by being made of opaline glass and have chrome details. It is important to pamper every detail, in general and from my experience I observe that this mere detail is often taken as that ... a mere little detail without importance, but believe me if I tell you that this little detail is equivalent (gastronomically speaking) to the salt of a bar of bread… .. »small details make big differences ».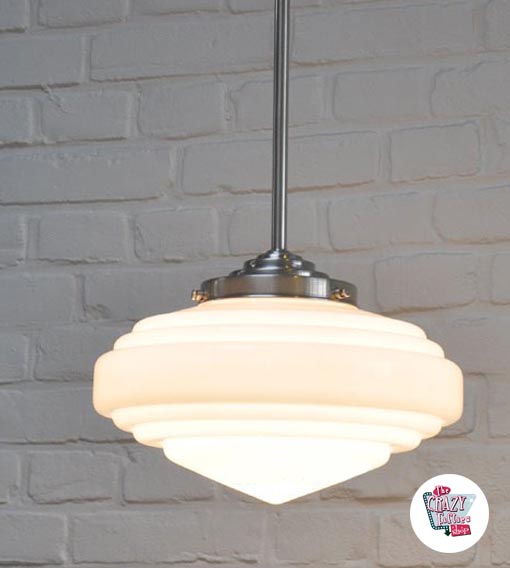 El Neon Retro, either on the façade of the establishment or inside.
Please, no illuminated striped methacrylate plates or strings of led lights, Neon is Neon and period. We can put it or not put it, that is everyone's choice but let's not put strings of tuning lights and let's pretend that it simulates a Neon, If we are going to put a Neon, let it be a real neon!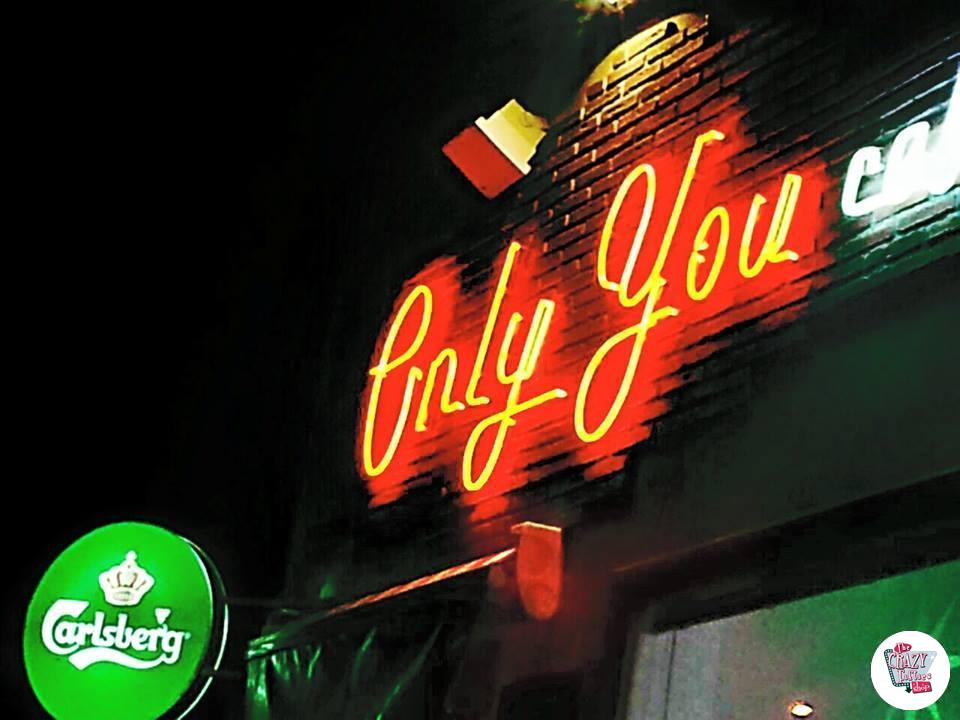 7 - Jukebox, Rockola or Gramola
To finish the 7 deadly sins I leave this point for last because it is "the icing on the cake", besides being a very controversial topic, but I hope that after having read the whole post you will understand the point. The Jukebox (also known in Spain as Sinfonola or Gramola) was a practically indispensable element in an American diner, it was like nowadays the "slot machines" of Spanish bars, therefore it should be so in our project as well, even more if possible if our concept is based on Roadside diner, Café Racer: Harley bar (for example). The controversy comes with the Jukebox Replicas And it is that personally I am not a fan of Jukebox replicas for Restaurants, if it is true that for a home they have their point because they take up little space and are also cheap, but for a restaurant they are excessively small (at a decorative level) also of being practically useless at a technical level and insufficient at a sound level, having said that, it is 100 times better to place an original Jukebox in our restaurant before a replica (we can also exploit it economically and get financial retribution) and in the event that If we escape our budget, it is preferable not to put anything or put a damaged one (externally restored) before a replica.
Personally, I feel a special predilection for Rock-Ola CD Bubbler and for the Sound Leisure Rocket 88.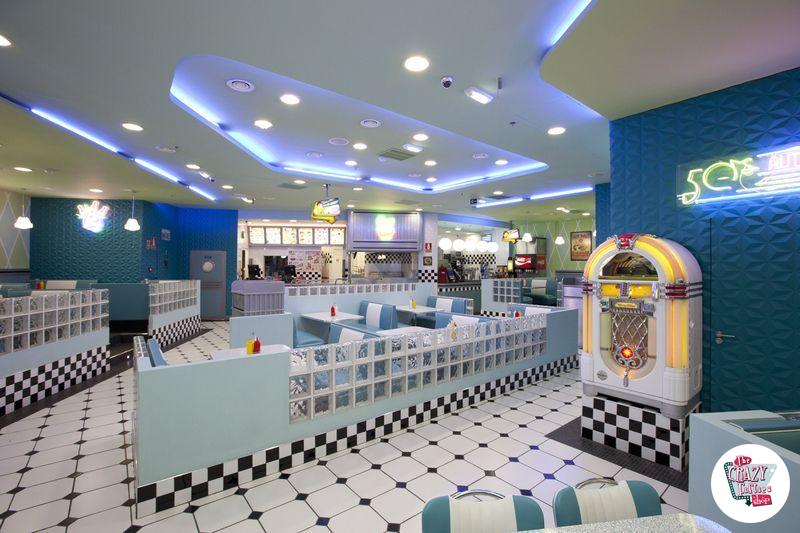 These are the 7 deadly sins in which we must try to avoid falling if we intend to set up a successful Diner Restaurant, we hope you have enjoyed this article and above all that it has been useful as well as entertaining 😉, in the same way we invite you to see our previous post as «Decorating Ideas American Diner»Or Want to ride an American Diner?.
* In this article we have not talked about customer service or service, which is a fundamental part, but referring to point No. 2, we will say that to set up any business one must be consistent with himself and know if he really has a passion for what he does ( or intends to do), otherwise better dedicate yourself to something else.