Cafe Racer movement
El Cafe Racer movement It is a movement that arose in 1950 en United Kingdom and melding the world of Rock & roll and the world of Motorcycling. The main feature of this movement is the modification performed to the Rockers (normal) motorcycles personalizing changing heavy chassis smaller and lighter bikes to provide greater agility and reduce weight to improve speed. All these amendments placed issues of speed and aesthetic comfort. Other changes involved changes in the exhaust pipe, colin, footpegs etc..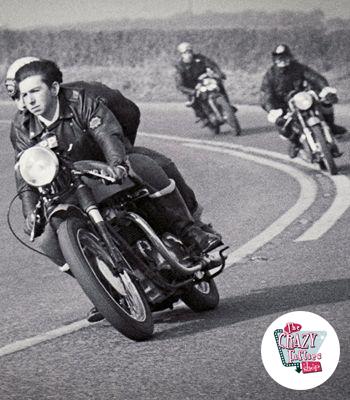 The main objective was to obtain a motorcycle fastest way to go from cafe to cafe, hence the name Cafe Racer. Soon this became a movimineto lifestyle and young rockers began to occupy bars truckers who came in droves with their modified bikes in listening to your favorite tunes in Juke Box these bars road, performing careers and drank beer.
Gradually this movement boom Cafe racer was causing Motorcycle manufacturers began to introduce models Moto Racer, or as close as possible, in their catalog. Within this booming small fuerón fabircante grew the most by a higher level of customization. Over time, large factories were absorbing small manufacturers and improving the level of their designs to cause the decay of motion Cafe Racer, because people no longer had the need to make changes in his garage.
With the movement in the background, slowly has been losing the essence of the movement, becoming today, on a purely aesthetic issue.