The 66 Route
La Ruta 66, Known worldwide as Route 66, Is the most famous road in the history of North America, Hence the nickname The Mother Road o Main Street of America. Originally this road, which was part of the state highways of the USA, was established in 1926, being signaled to the following year and continued in force until 1986, when it was discontinued, to be replaced by federal interstate highway network. Over the years, the Ruta 66 was undergoing modifications and improvements involving changes in infrastructure and layout, but the initial career was as a starting point city Chicago (Illinois) and its route passing through the states Missouri, Kansas, Oklahoma, Texas, New Mexico, Arizona y CaliforniaTo reach the city of Los Angeles. Precisely one of the above mentioned path changes modified the final stage of the route, changing by Los Angeles City Santa Monica.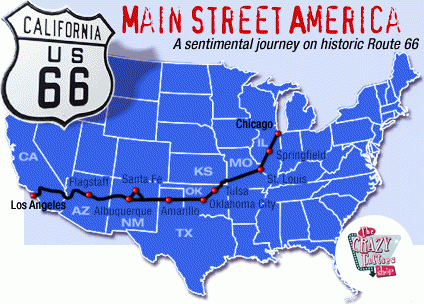 La Route 66 kept the economy of the areas was going through, making its people prosper, especially in the era of the 30 during dust storms, when it was the main route used by emigrants heading west.
Currently parts of the route have been marked and labeled as Historic Route 66.