Retro American Diner Bar Stool BS28
This super Retro American Diner Bar Stool BS28 It is perfect to place in the bar of an American Diner themed restaurant. With a very careful aesthetics and manufactured with high quality materials, this stool will become your best investment. They are built to last and the comfort of the seat is unbeatable. Different colors are available in 8 so you can combine them in any environment.
Features Retro American Diner Bar Stool BS28:
Metal structure
Upholstered in vinyl of 8 available colors
10 cm «extra fat» chrome profile
Chrome profile with matching laminated vinyl upholstery
Dimensions Retro American Diner Bar Stool BS28:
Seat: 38 cm diameter
Seat height: 77 cm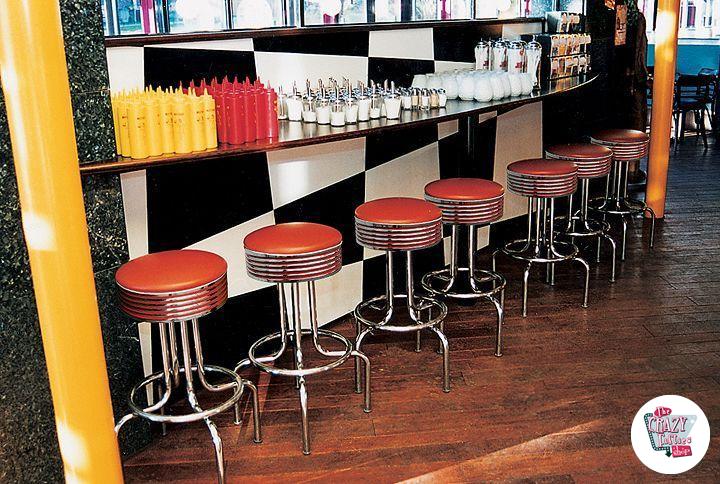 If you are thinking of starting an American diner, we recommend you visit the other categories of American Retro Diner Furniture to see all the options we have for your project. We also have a great variety of Retro Jukebox , Retro lamps and of course, the mythical and indispensable Neon Signs to complete the decor of your American Diner, and if you intend to give it a Garage air or Cafe Racer we have some very interesting categories of Retro Gas Pumps y retro engine fitment. Remember that at The Crazy Fifties we are experts in American decoration. We are at your entire disposal to advise you. We make estimates without obligation and we can help you with the decoration, composition and distribution of diner furniture for your business or your home. We have been decorating restaurants with a Diner theme for 8 years like the American Diner Betty & Sam located at C / Miramar, 1 · 07600 Arenal, Palma de Mallorca, Spain.
Also noteworthy is that we also have retro items for other professions such as hairdressing or barbering more specifically, because we have vintage barber chairs and mythical barber poles (Better known as barber pole).