Retro American Diner Bar Stool BS40
El Retro American Diner Bar Stool BS40 It is the most comfortable of the American diner stool models, your clients will not leave the bar! With 8 different colors and without fixing to the floor, it becomes a perfect element to combine with the rest of Retro American Diner Furniture and Retro Lamps, and to recreate an authentic American Diner. Being the Red and Turquoise colors the most common when we talk about Diner Decoration, we offer 6 extra color possibilities, such as Yellow, Blue or Dusty Rose among others. The quality of the materials that make up its structure and the upholstery, guarantee a maximum level of comfort, as well as great durability. In addition, these stools have all the necessary quality certificates to be used in hospitality projects, such as the Fire Test and the CE. Without a doubt the best quality at the best price.
Features Retro American Diner Bar Stool BS40:
Metal structure
Upholstered in vinyl of 8 available colors
Dimensions Retro American Diner Bar Stool BS40:
Width: 34 cm
Background: 61 cm
Seat height: 77 cm
Height back: 109 cm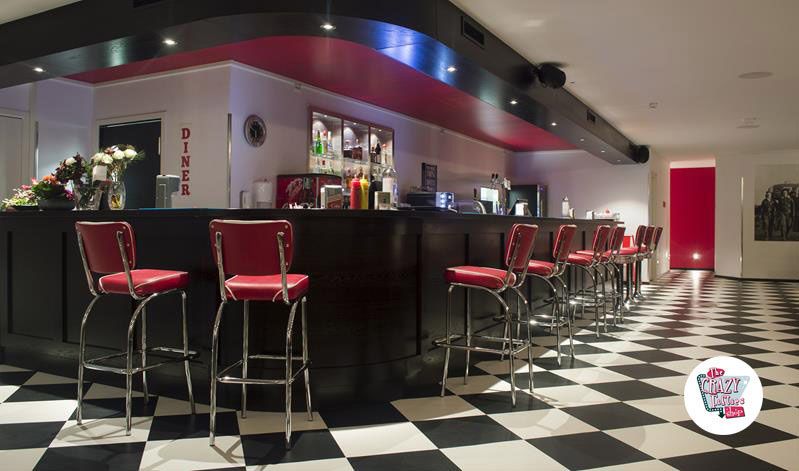 If you are thinking of starting an American diner, we recommend you visit our report: decorating ideas American diner As well as our work done, other categories of American Retro Diner Furniture to see all the options we have for your project. We also have a wide variety of Retro Jukebox y Retro lamps to complete the decoration of your american diner. Remember that at The Crazy Fifties we are experts in American decoration. We are at your entire disposal to advise you. We make budgets without obligation and we can help you with the decoration, composition and distribution of diner furniture for your business or your home, regarding this last point it should be noted that we have a section of Retro American Diner Furniture Sets specially configured for the home or office. Since 2007 we have been decorating restaurants with a Diner theme such as the Wings Røros (Bowling Diner), Norway located in Osloveien 18, 7374 Røros, Norway. This restaurant also offers a bowling alley also decorated in the 50's years.