Retro barber chair Eco
El Retro barber chair Eco It is the cheapest option to buy online these luxury seats for barbers and hairdressers. Has a structure made of iron and aluminum, reinforced to increase durability thereof. The coating is high density foam to provide comfort to the height of the most demanding customer requirements. The seat has an ergonomic backrest and headrest for comfort. All our models have a hydraulic system with excellent performance, built to last and withstand wear and tear of daily work.
It is important to note that each unit of the Retro barber chair Eco It is made to order and according to the specifications of each client, as they are fully customizable, you can choose between 1128 possible combinations based paint color, finish, color, or upholstery. In the pictures you can product catalogs with different customization options, so you can have a model with a unique design to differentiate yourself from your competition.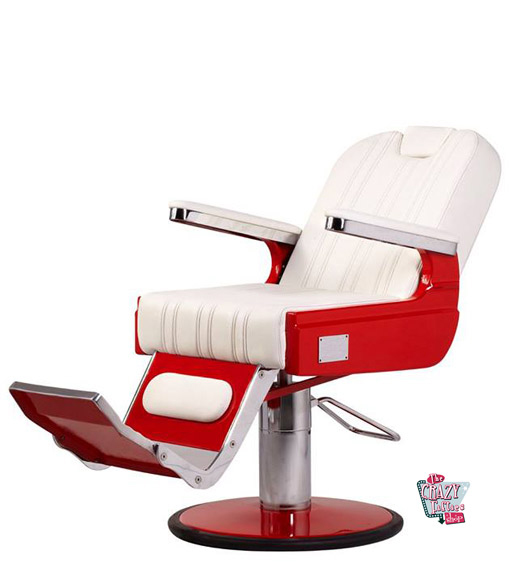 Retro barber chair features Eco:
Cushion double rotating seat.
Hand lever for tilting chair.
dual reclining footrest.
Dimensions and weight Armchair Barber Vintage
High: 98 cm
Length: 62 cm
Background: 107 cm
Weight: 75 kg
Extras Barber Vintage Armchair
All our Vintage Barber chairs for adults they have a series of extra options that can be added, apart from the customization options already mentioned above. These extras are more exclusive and to request them it is necessary to contact us to check availability and extra manufacturing time, as well as price increase:
Customer name embroidered on headrest: + 154 €
Embroidered logo or customer design: A quote
Important:
Don't forget to specify the color and upholstery in the order comments.
The colors of the illustrations in the catalog are indicative as they suffer the effects of shadows, light, reflections and color composition during printing.
See pdf catalogs included in the links below to see more defined colors, fabrics, paintings and accessories.
Barbero Confort Armchair Books Eco.Pdf
See Catalog cushions for children.Pdf
Open Colors and upholstery catalog.Pdf

If you like retro barber chairs y Vintage chairs Barbaro You can complete your decoration with a Barber pole or (better known as Barber Shop Pole)