Vespa scooter Seesaw
We present the Vespa scooter Seesaw.
The first 15 Vespa scooters They were presented at the Golf Club of Rome in 1946, hand Enrico Piaggio and Corradino D'Ascanio (engineer). At the end of the Second World War Piaggio had the vision to create a comfortable, cheap and easy to use transport. Piaggio commissioned a first project to engineer Renzo Spolti, who created the Paperino with a design inspired by the motorcycles folding of the paratroopers of the English army. This first prototype did not convince Piaggio and he turned to the aeronautical engineer Corradino, to whom he designed a revolutionary-looking vehicle for its time which was based on the design of an airplane. When Piaggio he saw her, exclaimed, "Bello, a sembra scooter», Alluding to the shape of the vehicle: thicker rear part connected to the front part by a slim waist, and the handlebars as the antennas. This fantastic version Vespa scooter Seesaw It is ideal to enjoy the smallest of the house.
Dimensions and weight Vespa scooter Seesaw:
Height: 0,95 m
Depth: 0,51 m
Width: 1,26 m
Weight: 20 kg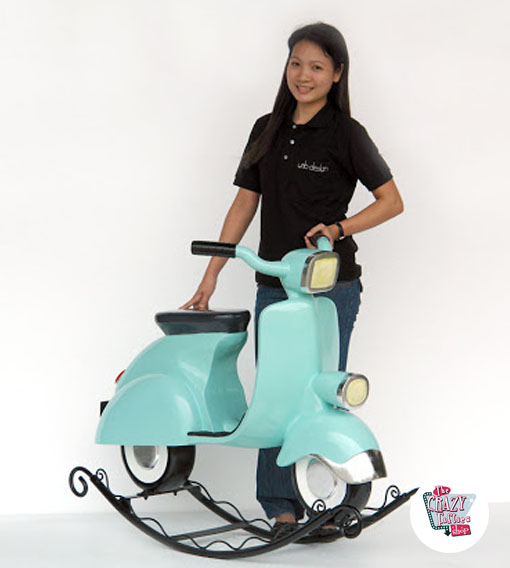 If you are passionate about these Scooters we invite you to see our product selection Vespa