Pac-Man coat rack
Is original Pac-Man coat rack Also known as a coconut eater, it is one of the accessories that cannot be missing in every good game room, since they are a complete classic of the video games of the 80's, they are easy to anchor to the wall and their colors add a lot of color and style to your favorite space. In addition, you can place them with the composition you want since they are individual, you can, for example, put some basses so that they are within the reach of the little ones. A detail that will undoubtedly please all your guests.
Are Made of polyresin, they combine very well with our kitchen or gameroom accessories such as: Pac-Man Salvamanteles y Set Salero and Pepper Man Pac-Man They are ideal for decorating your kitchen in the purest Retro Gamer style. It is the perfect gift for those who love the gamer world and the nostalgia for old games.
This product is original and has the official license, it is made up of 1 Pac-Man and 4 Inky Ghosts.
Dimensions approx. Pac Man hanger:
Width: 7,5cm
Depth: 7,5cm
Height: 4,5cm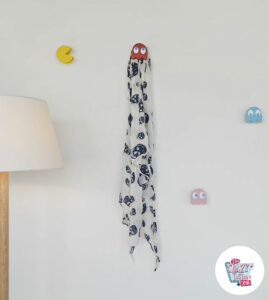 We invite you to see our selection of American retro furniture sets where you can find the ideal set for your vintage kitchen.