Retro American coffee table TO17
This Retro American coffee table TO17 -Shaped "kidney" and built with high quality materials. The finish can be in glossy antique white or glossy stone black, in both cases it is finished with a wide edge of 5,5 cm thick polished aluminum.
Size:
Length: 165 cm
Width: between 44 and 76 cm depending on the point.
Height: 38 cm
You may be interested to know that all Retro American Diner Furniture Sets (of that Category) have the possibility of obtaining free postage, publishing in our Facebook some pictures of Retro American Furniture Set that you have purchased for your home in www.TheCrazyFifties.es with relevant comments, so that other customers can benefit from your experience. For example, the set that appears in the image below is the Retro American Lounge Furniture Set C170102 which is ideal for a lounge or waiting room of a business, it is formed by 1 coffee table TO17 in Antique White Oxide + finish Retro Vintage sofa 1 SF02CB Color Black with white and 2 Retro Vintage armchair also in black with white. If the set does not exist that you. you want, send us an email to: info@thecrazyfifties.es with the subject «Set of American retro lounge custom»Asking what is your desired set to see if it meets the minimum requirements.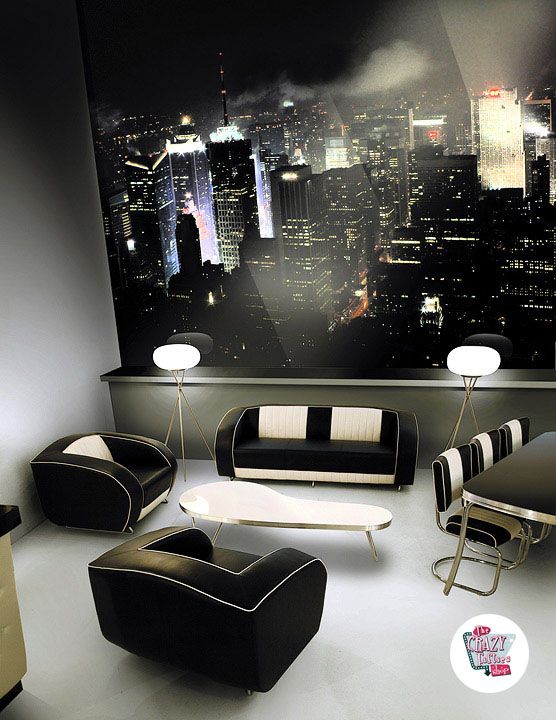 And do not forget that in in TheCrazyFifties You can also find decorative accessories for these sets, such as retro lamps, neons, retro turntable, vintage phones, retro appliances and kitchen accessories and even pictures and decorative plates in the section Vintage decoration, we have been setting trends since 2007 being Nº1 in American Retro style décor years 50 y Jukebox, for something Rock-Ola We have been chosen as brand representatives for Spain (www.Rock-ola.es) with distribution for Portugal, Italy and all Latin America. Likewise we invite you to see our section of work done where you will find a small sample of some clients.