Lowboy Arcade Machine
Introducing the Lowboy Arcade Machine, the smallest recreational with an unbeatable price-quality ratio !!
This recreational It is manufactured in Europe and is manufactured in a traditional way, by hand, exclusively for each client with the theming and finishes that they have chosen, this artisanal process causes the manufacturing period to vary between 30 and 60 days depending on the volume and workload.
The client can choose between more than 150 design models (Designs to choose) that we have or if you prefer to choose between a wood finish in White or Black, in any case you must confirm in the order (in comments) the name of the design or wood finish you prefer.
Our original arcade machines of the arcades had video games incorporated through Jamma systems, this system monopolized the market due to its extreme reliability. For the use of these recreational games at home, computer systems were chosen almost always with Windows operating systems, since they allowed the installation of simulators with multigames, but the fragility of the system towards (and makes) that these can be "hung" or "fried" with a drop in power or sudden logout.
Our recreational machines they have installed a Jamma system with 2800 games, possibly making them the arcades with the most reliable multi-game operating system on the market.
Features Lowboy Arcade Machine:
- Theming Arcade machine no additional charge (Designs to choose)
- «Plug and Play» system (Connect and go)
- Power supply 220v 50hz
- Glass canopy illuminated with energy-saving LEDs
– 2.1 speakers
- External knob for volume control
- Headphone output
- Power button or switch
- Folding CPO panel with crab closure (traditional system)
- Port service button
- Lockable rear door
- 27 ″ Panoramic Monitor New Improvement
- 8-way joysticks with 55mm bezels (from Industrias Lorenzo)
- Concave Arcade Buttons PSL-L (from Industrias Lorenzo)
- 44 mm Cherry D4,75X Microswitches. (last up to 40.000.000 keystrokes)
- Jamma game system with 2800 games with search engine New Improvement
– 19 mm thick wood (more body, more robustness, more durability, more weight) New Improvement
– Front studs for greater stability New Improvement
Dimensions and Weight:
- Height: 156 cm
- Width: 68 cm
- Depth: 55 cm
- Weight approx: 65 kg
If you need something less deep and height is not a problem, we invite you to know the Arcade Slim Machine, with 15 cm more height but 5 cm less depth.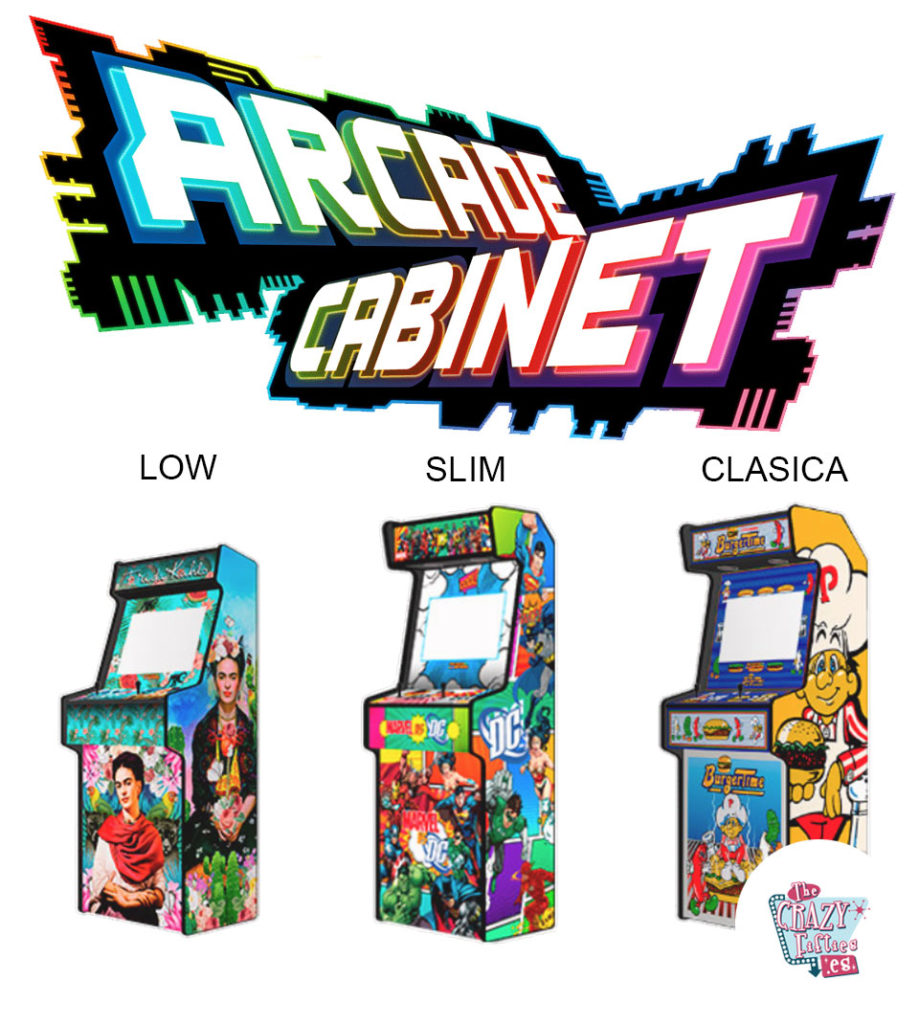 By the way, if you are a lover of Pac-Man (Come-cocos) you might be interested to know that we also have some Arcade add-ons for your home