Rock-ola jukebox Elvis Limited Edition
Rock-ola jukebox Elvis Limited Edition, el Retro Jukebox most popular of all time now Limited Edition Elvis Presley in the Rock-Ola (Rockola) Series V Bubbler.
Air bubbles cheerfully animate the tops of the 8 bubble tubes, while a 'kaleidoscope' of colors flows through 4 transparent colored plastic cylinders.
It is about a return to the 50s, when the CD changer turned right in front of you, in this version the CD player represents the sinuous silhouette of a guitar on which we can see the unmistakable stamp of the King of Rock «Elvis Presley».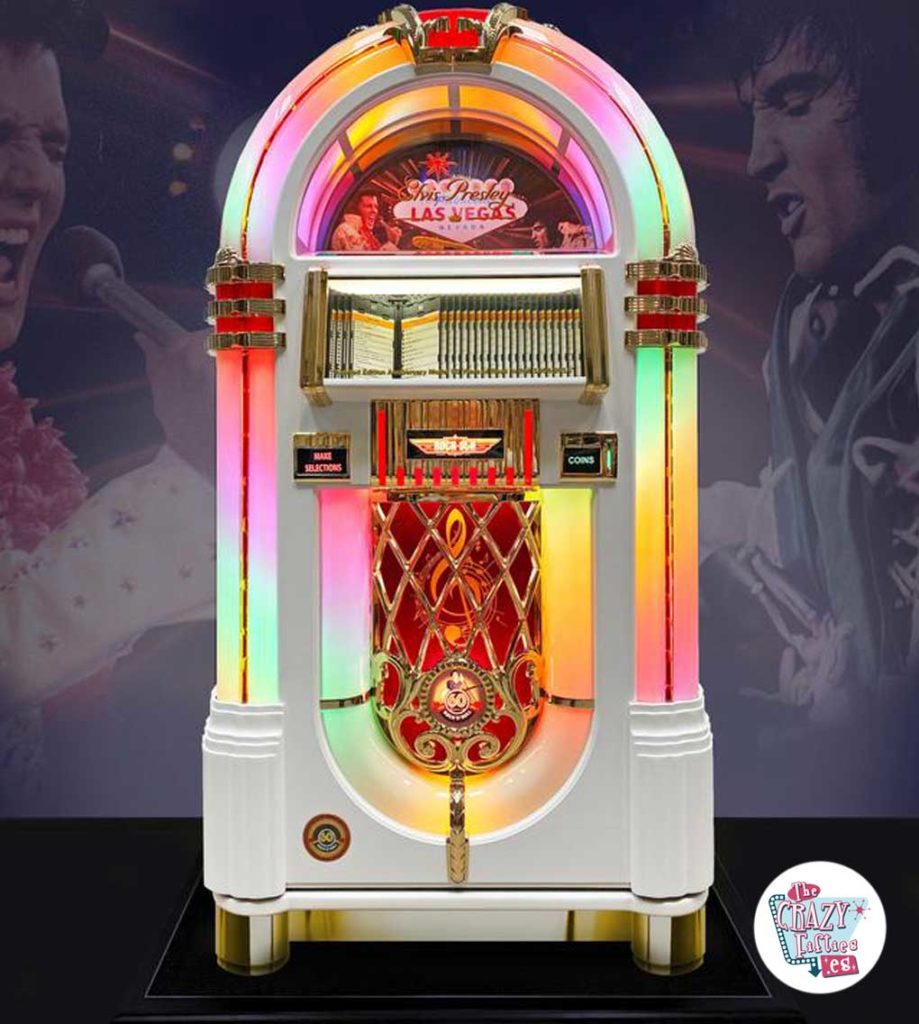 The 19 pieces are made of genuine die-cast metal, triple plated with copper, nickel and polished chrome and have been treated with a high quality gold effect color bath.
Quality is a pride in these classics, tradition Rock-Ola (Rokola) Continues. The Jukebox Rock-ola Elvis Limited Edition It has an incredible stereo sound quality with dual amplifier and 5 speakers, double 3 tracks for the system «Live» playback performance.
The "shell" of this wonderful of this Jukebox de Rock-ola this Crafted using walnut, satin, alder, poplar and hardwood, this is the occasion and as a limited edition of the 60th anniversary, these limited edition Rock-waves have a high gloss paint finish ( Piano finish) although only available in White and Black.
In the technological section, it should be noted that it has 5 3-way speakers with a power of 425 Watts RMS, this system being suitable for linking with other Sonos-type musical systems.
Features Rock-ola jukebox Elvis Limited Edition:
Capacity Charger CD 100
Library capacity 50 cards
Dual Stereo Amplifier
425 Watt RMS QSC Amplifier
5 speakers, 3 system channels for «live» Performance
Compact Disc Player Phillips
Laser with Auto Tune
bluetooth system
Can be connected to a built-in music system (for example, Sonos)
Limited to 99 edition units (for color)
Chrome in gold effect finish
Elvis Presley murals individual murals
Guitar custom CD protector
Custom library with 60th Anniversary logo
60th Anniversary Crystal
Personalized grill with musical note
Anniversary medallion on front door
Plate signed with the edition number
Certificate of authenticity
Finishes:
Piano Black CD8E-GBE
Piano White CD8E-GWE
Dimensions and weight:
Height: 152'4 cm
Width: 85'1 cm
Background: 68 cm
Weight: 128 kg
* Be aware that is a limited edition
* Except breaking stock the delivery will 20 days, if stock gives have broken the period shall be 60 days.
* For purse collection drawer with the delivery will 60 days.
* Also available in Digital