Neon Jukebox Rental
We present the Neon Jukebox Rental currently available, You can rent a Jukebox from just 129 € / session (+ VAT).
This "Lowcost" model is indicated for photo sessions or video clips where you don't have to show off your sound since only the lighting works. This machine is in perfect aesthetic condition and we can also offer it with the Jukebox step option to increase the height by 20 cm. This option has an additional cost of €50/session (+ VAT). If you need a model with the audio function in perfect condition, we recommend the Jukebox Neon LP Rental.
Features:
Neon lights
Black colored casing
Step (optional) with drawer that increases the height in 20 cm
Dimensions and weight:
Height: 102 cm (122 cm with the step)
Width: 57 cm
Background: 30 cm
Weight: 30 kg approx.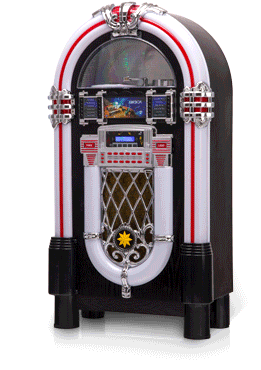 The rental sessions are for 1 week, and the price indicated is per session. The shipping costs will be the one way and the return. A deposit fund of € 400 + VAT will be required, which will be refunded once received and verified that the jukebox is in the same conditions in which it was sent. Otherwise the client will lose the deposit made.
If you want another type of rental or contact Assignment and facilitate them different options.