Neon Jukebox Route Bluetooth 66
We present the new Jukebox Neon Bluetooth Route 66, a Jukebox whose tribute is based on the mythical Route 66, we have it available in 2 finishes, in both cases the base model is the Bluetooth Neon Jukebox, a jukebox with a renewed design and technical improvements, this model gets its name thanks to its play and its arc lights as it simulates the neon effect. As far as benefits are concerned, it should be noted that the Neon Jukebox Route Bluetooth 66 It has a CD reader with Mp3 player among other formats, SD Card and USB reader. It also has an auxiliary input that allows the possibility of connecting an external player such as an ipod or similar. As if that were not enough, this model also incorporates an additional step or stand to supplement it, thereby gaining about 20 centimeters of additional height. In addition, this drawer has a very practical drawer. Another outstanding feature of this model is the front control panel, which has been introduced as a novelty compared to previous models.
For this product we recommend the Vinyl CDs, since at the top (in the dome) the CD player simulates a turntable and to put it into operation you have to put the "needle" on the CD, with which CD-shaped vinyl will be ideal for theming.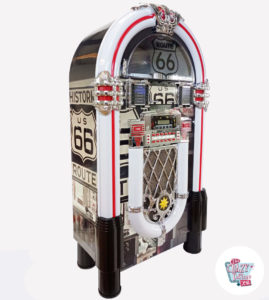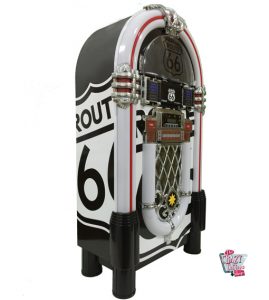 Features:
CD players Mp3
Bluetooth
SD Card Reader

New improvement!

USB Reader

New improvement!

AUX port with minijack to play supports additional audio
Analog audio output for connecting external speakers
FM radio
2 stereo speakers
Regulator treble, bass and balance
Wooden housing
Color black casing
Dome CD protection
Power: PMPO 120W
New Front Control Panel

New improvement!

Neon lights

New improvement!
Options:
Rung option + 20 cm
Speakers Extra Option
Dimensions and weight:
Height: 104 cm
Width: 57 cm
Background: 30 cm
Weight: 30 kg approx.
If you wish Buy JukeboxBut you want to find Jukebox Deals, we advise you to visit our Outlet section where you can occasionally find some economic Jukebox.