Van Bar La Rubia
We present the Bar Van La Rubia.
Formerly the family car, the station wagon that had part of the body made of wood or covered by wood, was commonly known as "La Rubia" due to the similarity of color and the fact that it was female, Blond Ranchero. This was only in Spain, since in the rest of the countries it was known by the same name as 100% metal vehicles: "Break" in France, "Kombi", "Tourer" or "Touring" in Germany and Sweden, " Station Wagon "in North American English and" Estate "in UK English. We present the Bar Van La Rubia done on this mythical car of the años 50 y 60, especially well known in the US as it was quite used in the American golden age.
Dimensions Because Bar:
High: 1,06 m
Background: 0,55 m
Width: 1,70 m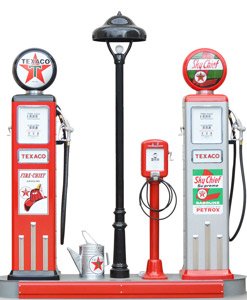 If you are interested in decoration engine world, we recommend you also to visit our category gasoline retro jets where you can find fabulous Decorative petrol pumps.