Retro Vintage armchair LC01LTD
Elegant Retro Vintage armchair LC01LTD manufactured following the guidelines of the old school "old school", As things were done earlier in the years 50 ′ Consistent to last !. This chair Diner Chair meets the same requirements of the demanding hospitality, as a seat (the thicker the market), structural strength and weight (which helps stabilize). They are ideal for a touch Retro any American Diner, boardroom, office, office, reception or home, whether it retro style of the years 40 ′, 50 ′ or 60 ′ , as if they are not, since thanks to their range of colors they are easily combinable with more current (modern) and sober trends.
Features:
Retro Vintage armchair LC01LTD
Metal structure
Upholstered in vinyl of 3 available colors
Seat thickness «extra fat» of 5 cm
monocolor backing
Dimensioness:
Height: 85 cm (back)
Width: 44 cm
Background: 61 cm
You may be interested to know that all Retro American Diner Furniture Sets (of that Category) have the possibility of obtaining Free Shipping Cost, publishing in our Facebook some pictures of Retro American Furniture Set you purchased for your Home en www.TheCrazyFifties.es with the pertinent comments, so that other clients can benefit from their experience. If the set does not exist that you. you want, send us an email to: info@thecrazyfifties.es with the subject «Set of American retro lounge custom»Asking what is your desired set to see if it meets the minimum requirements.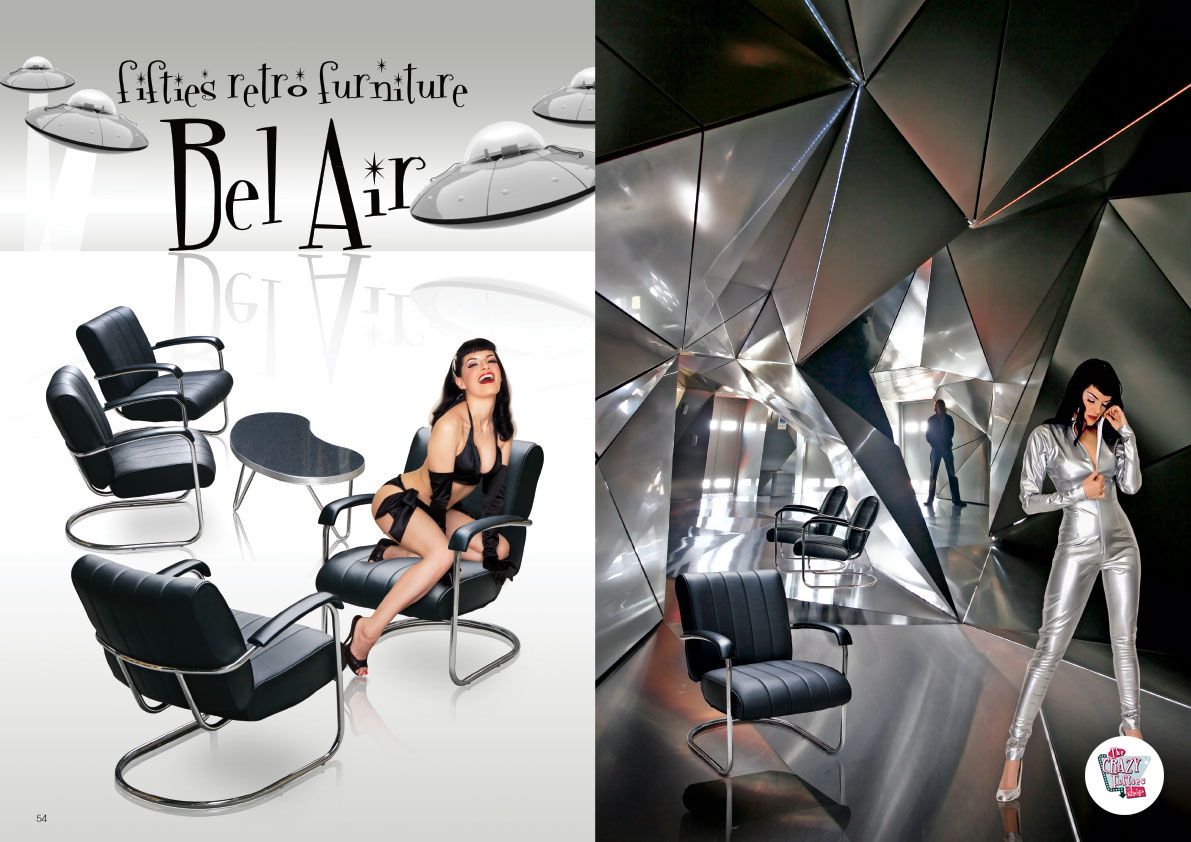 And do not forget that in in TheCrazyFifties You can also find decorative accessories for these sets, such as retro lamps, neons, retro turntable, vintage phones, retro appliances and kitchen accessories and even pictures and decorative plates in the section Vintage decoration, we have been setting trends since 2007 being Nº1 in American Retro style décor years 50 y Jukebox, for something Rock-Ola We have been chosen as brand representatives for Spain (www.Rock-ola.es) with distribution for Portugal, Italy and all Latin America. Likewise we invite you to see our section of work done where you will find a small sample of some clients.