Barber pole rental
We present the Barber pole rental.
El origin of Barber pole rojiblanco is associated with one of the services that barbershops formerly offered. During medieval times, barbers performed surgery on their clients, as well as tooth extractions. The Barber Pole originally had a brass basin at the top (representing the vessel in which leeches were kept) and bottom (in reference to receiving blood vessel). The pole itself symbolizes the stick or cane that the patient gripped during the procedure to facilitate blood flowed.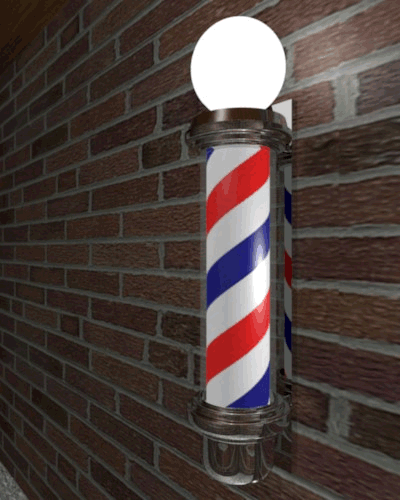 Another theory about its origin is that barbers put blood-stained rags to dry on a spinning pole outside the establishment, so when you saw that white and red pole you knew there was a barber shop there.
Some authors believe that the format in red, white and blue used in the United States is a tribute to the colors of the flag.
The Crazy Fifties brings you this great barber's pole in four sizes, all with superior lighting globe.
Barber Shop Pole Features:
Column of barber's pole made of transparent polymethyl methacrylate.
internal motor that rotates the inner sub-column color.
Both the center column and the top ball of the barber pole light up.
The chrome trim of the barber pole has been created using ABS hot melt.
Metal wall bracket with chrome fittings.

Repack

with security system by encapsulating the Barber Shop Pole

Barber pole
Barber pole Dimensions:
A: 171 x 31 x 23 cm
B: 141 x 31 x 23 cm
C: 111 x 31 x 23 cm
D: 84,5 31 cm x x 23
Rental Conditions:
The indicated price corresponds to the rental of 1 session.

The session has a minimum duration of 1 day and maximum of 1 week.
All lease carries a deposit fund which will be defined depending on the volume of the merchandise.
The shipping and return costs will also be quoted depending on the volume.
If you like the Retro Vintage barbershop also interest you to know that we have Vintage Barber armchairs handmade, excellent quality, can be found in the same category Retro Vintage barbershop