restored original supplier
If you're looking for restored original supplier Now you can buy online in Thecrazyfifties.es! We work mainly with Texaco and Shell models, which are the most demanded by our customers. It is a product that is restored to order and to be original we buy when there is availability, so the stock is variable. If you are interested in this type supplier contact us for availability and delivery times.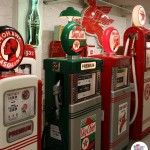 We can customize an original pump with any color and brand you want such as Gulf, Flying A, Special, Mobil Gas, Texaco Fire Chief or any other model you have in mind.
If desired we can also make Gasoline Islands with Original petrol pumps.