Figure Decoration Marilyn Pink Cadillac
We present the Figure Decoration Marilyn Pink Cadillac.
Marilyn Monroe (Norma Jeane Mortenson), the star of several films such as How to marry a millionaire or The seven year Itch, became one of the most famous actresses in US history, as well as being a true Pop icon and sex symbol most representative of the 50s.
En The Crazy Fifties Spain we bring you this fantastic Marilyn Cadillac Rosa figure. This magnificent Resin Figure full-scale Marilyn Monroe in Pink Cadillac It will not leave anyone indifferent, it is ideal for decorating bars, pubs, discos, burgers, music stores, and even commercial premises that wish to attract the attention of passersby.
Dimensions Figure Theme Marilyn:
Height: 1,21 m
Width: 3,17 m
Background: 0,68 m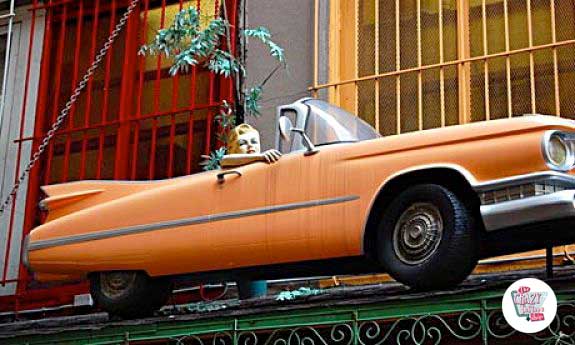 It may interest you:
If you are thinking of riding a American restaurant style 50's, we recommend you read the article first American Diner Decorating Ideas which will surely be very useful, just like the "manual" of The 7 Deadly Sins that we should avoid when we open an American Diner style restaurant of the 50's o 60's. On the other hand, if what you want is decorating a Theme restaurant another style themed figures you should know that we work with the largest hub Figures theming across Europe, so we can get you up-scale Dinosaurs!