Elvis Presley Story
Elvis Presley surprised many with its personal style and her provocative style of dancing for a while, in which the public was still not used to the fan phenomenon and rock & roll. With him an authentic mass phenomenon was created that would create a myth, being remembered today as one of the best stars. Elvis was born in 1935 in Tupelo. His childhood was no conflict, although somewhat complicated, since it could not be formed, their integration into the work still needed from an early age to help his family.
He developed a special sensitivity to the music, something he fully loved, loving very young. His dream at that time was to have a guitar, which then got pounding away at her parents to the buy. It was a virtuoso composition and showed a lot of talent when it comes to assimilate notes have barely studied professional music. When his family moved to Memphis, he had the opportunity to meet a music producer, known as Sam Phillips. This musical career was the owner of the record company "Sun Records" and seeing him play guitar and sing, he wanted to go for creating a promotional work with two songs, which were "That's all right" y "Blue Moon of Kentucky"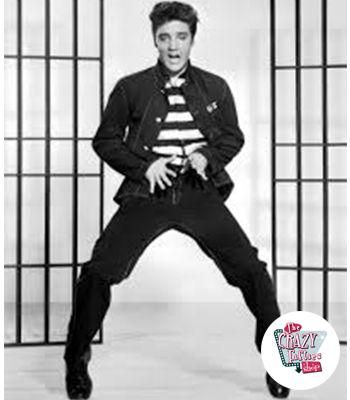 The radio appearances made Elvis be made increasingly popular and with the signing of the RCA label turn all his success and fame spread like wildfire. His LP that bore his name came to be sold to more than a million homes and with the fan fenónemo over Paramount discovered Elvis, A large fortune, offering movies starring for seven years. "Love me tender" It was a sales success, not only in the exhibition of the film, but the sale of its soundtrack and all the merchandising surrounding the film. Elvis's life then took a different course, I had the opportunity to start a career, marry Priscilla Ann Beaulieu and bought GracelandYour home.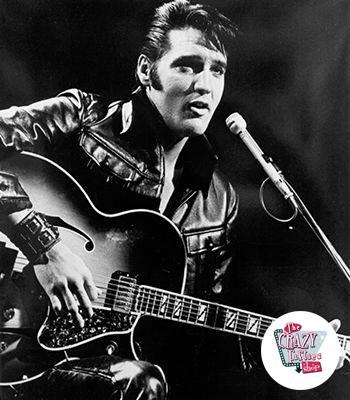 In the years 70 the decline of Elvis began to be felt, with a very deteriorated with his diminished appearance and talent, appeared fatigued at concerts and disoriented, falling several times before the astonished gaze of his followers. During this time, the typical image of the artist, who has served as a tendency to create dolls and all kinds of souvenir merchandising was conceived, with its tight white dress silver tone rhinestones, great toupee and sunglasses showing his nascent obesity. After his divorce and his recent appearances, died in 1977, of a heart attack, being a victim of the excesses of an unhealthy life, leaving the trail of one of the artists with over a hundred gold records to his credit. Many still mourn in Graceland and hundreds of fans visit every year on the anniversary of his death, proving that his songs still excited.
En Thecrazyfifties.es we have a variety of Figures Retro de Elvis Presley made of high quality resin and all kinds of Retro Decor y Vintage Decor 50 linked to Golden Age This pop icon U.S..