Retro American Diner Bar stools
Do you like Retro American Diner Bar stools Classic, typical of American restaurants from the 50's and 60's?
Read More...Close
We present you our fantastic collection of American retro stools, all models are available in 9 different colors of finish, likewise practically all models except for one pair have their variant with and without backrest.
All models except the BS40 they have the rotating base independently of the structure by means of rolling and the side of the seat with a 10 cm thick chrome trim which is decorated with 5 stripes in combination with the main color chosen.
At Thecrazyfifties.es we have been dedicating more than 12 years to American Decoration for bars, restaurants and hotels. We prepare your budget without obligation and we also help you with the 3D plans so you have the American money you always dreamed of. We do shipping to all the world. We have the biggest central in Europe with 80% Stock available for immediate delivery. Shipments to all Europe in 10-15 days and Rest of the World 30 days approximately. Besides Retro American Diner Bar stools, we also have high and low tables, chairs, booths, bar stools and even a selection of Retro American Furniture Sets. We prepare your budget without obligation. We also help you with the plans so that you have the American diner, retro Salon, vintage dining o even the American kitchen you've always dreamed. Commitment to quality and originality, commitment www.TheCrazyFifties.es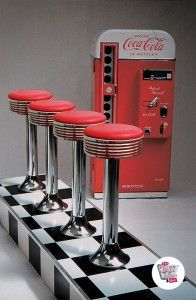 El Retro American Diner it was the meeting place of youth in the USA. in the 50 years. It was at that time when young teenagers gathered around the jukeboxes Jukebox and proudly displayed their cars. More and more people appreciate the retro furniture from the 50 and wants to materialize his dream of remembering that golden age, that's why Thecrazyfifties.es make people's dreams come true by putting these fantastic 50s "Golden Age of America" ​​retro furniture at their fingertips.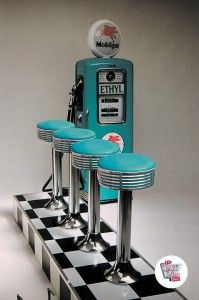 At Thecrazyfifties.es we offer both Retro American Diner Furniture for industry hostelry as for use and enjoyment at home (at a particular level). In addition to our catalog you can also find all kinds of accessories decor.
Retro American Diner Bar stools
218,18

€

- 267,77

€

VAT not included