Jukebox Rental
If you have an upcoming event and are looking for a Rental Jukebox, You are in the ideal place!. We have two models available: from just € 149 / session, you can enjoy the "Lowcost" model. Or for € 249 / session the model Jukebox CD Vinyl Rental. The first reference is indicated especially for photographic sessions or video clips where its objective is to show off lights and its spectacular design. In the second case (Jukebox CD Vinyl) it is fully functional, ideal for party events, meetings, exhibitions, fairs, etc.
This model of Jukebox (the Jukebox CD-Vinyl), it is the most technologically advanced replica Jukebox model that is technologically speaking and also larger and has the peculiarity that it reads any format, from Vinyl (all sizes, to USB and SD Card)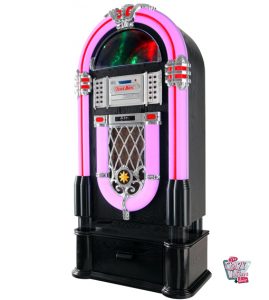 In any case the rental sessions are 1 week, and the indicated price is per session. Shipping costs are calculated depending on the location you want to send. A deposit fund will be required which will be refunded once received and verified that the show room jukebox this in the same condition it was sent. Otherwise the customer will lose the deposit made.
If you want other Rent or contact us Assignment and facilitate them different options.