Jukebox Professionals
We show you this selection of the best Jukebox Professional in the world.
We are official distributors of Sound Leisure (for Spain) and Rock-ola for Europe and Latin America.
In Latin America Rock-ola, It is the brand par excellence of this type of machine since its manufacture began in 1942, in fact there are called the music machines as Rockolas.
By default the Jukebox Professional They come without a coin collection drawer although we can add it on request. We can also serve tokens or custom coin-type tokens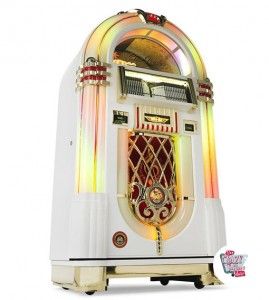 Both brands offer us the traditional Jukebox Professionals of vinyl!
The flagship of Rock-ola is Bubbler, available in three color finishes, while Sound Leisure is the Rocket 88.
Another of the most prominent models of this manufacturer are Rock-ola CD Gazelle as well as the Rock-ola CD PeacockWith different aesthetic features but identical technical features like Bubbler.
Also noteworthy is the Digital model Nostalgic Music Center PV4, available with different color variants and finishes.
Tell you that if you are interested in Buy JukeboxBut you want to find Jukebox Deals, we also advise you to visit our Outlet section Where you can find a bargain on time