Retro Jukebox Replicas
Regarding our catalog of Retro Jukebox Replicas (Gramolas or jukeboxes) as they are also known in Spain, it is worth noting above all the model Jukebox CD-Vinyl, by having Within its range the best quality / price ratio.
It should be noted that this model in question It has a turntable plate to play 33 rpm, 45 rpm vinyl records and even 78 rpm American vinyl records.
In addition to incorporating also a CD player, capable of playing both original and recorded CDs, as well as various audio formats such as mp3.
As if that were not enough, it also includes an SD card reader, USB slot and AM and FM radio, in addition to all this it also has remote control and options such as extra speakers to Bluetooth system.
No doubt the smartest choice if you are thinking Buy Jukebox.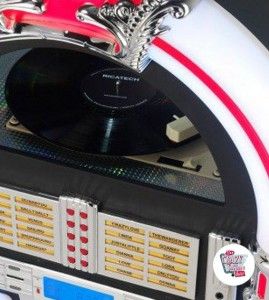 It is a model that would be in the range of a domestic music player in addition to being an object of decoration is itself.
This replica is aesthetically based on the famous model Wurlitzer 1015 2 scale / 3 (approximately).
Available in different color finishes, such as black piano, oak, white, or also a Marilyn, for example.
We also offer the possibility to customize this jukebox model for any brand or company. Send us your design and you will have a unique model.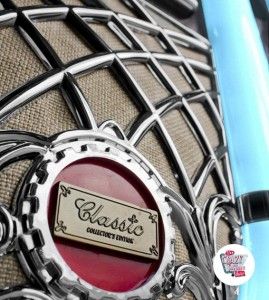 If you want to buy a Replica Retro Jukebox but you have a tight budget, in our catalog we also have several models of table top.
For example, the Tabletop Jukebox and the Mini Jukebox CD / Mp3. Although they have lower quality audio and power, they retain all the essence of the Jukebox. In addition, they are the perfect companions for any retro kitchen set.
In short, this range is an economic range to meet the demand of households at a low cost, since it does not require great power.
Now, while it is true that the quality / price ratio is very good, it is not advisable for business for its management.
If you wish to Buy JukeboxBut you want to find Jukebox Deals, we advise you to visit our Outlet section Where you can find a bargain on time