Figures Decoration Thematic Shop Candy and Pastry
We present you the Thematic Decoration Figures Shop Candies and Pastry Shop which we have a wide catalog.
We work with the main manufacturers of high quality fiber figures, we also have retro furniture with the highest quality in Europe. Very attractive and fun colors that you can combine to equip your pastry shop or candy store as shown in the image below.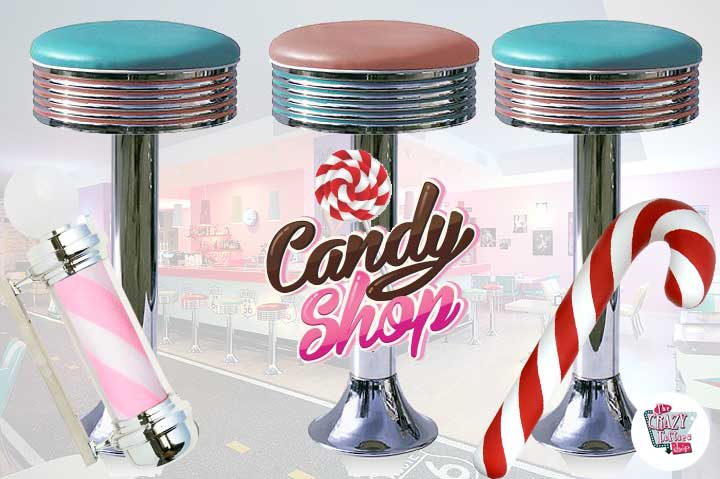 Highlight your business including decoration of human-sized candy figures, original figures of classic lollipops, canes, teddy bears and much more!
Our figures are made of high quality materials for both interiors and exteriors, they have anchors for easy fixing on the wall and different bases depending on the characteristics of the figure.
If your line of business is more focused on pastry, don't worry! we have from the adorable cupcakes in different models and flavors. The classic waffles (waffles / woffles) churros and even a charming life-size pastry girl.
You will offer an unmatched experience to your clients and you will attract the attention of your potential clients who will not be able to resist visiting you.
Complete the look of your business with our stools in the sweetest retro style. A fabulous color palette that will surely adapt to your needs, from the classic and sweet pink color to the fresh turquoise color.
But if you need more impact colors, you could include a vibrant red color or the fun yellow and with them achieve a more attractive environment, ideal for candy stores, candy, party supplies, etc.
Give rein to your creativity! Dare to use striking colors that leave more than a memory in your clients, an experience that they will surely want to repeat again.
Are you ready to be seen?