vintage lamps
If you are interested in buying vintage lamps In this category you can find a wide variety of pieces Back and Vintage lamps.
These Lighting Parts They are ideal for decorating style restaurants American Diner, as well as any other business set at that time, such as a Retro Vintage barbershop.
TThey are also perfect for decorating your home or your workplace with a wonderful lighting set. Among the most prominent models in this category are the Vintage lamp Globe or HO-122 Ideal for lighting an American Diner. We also have different models depending on their application, that is, ceiling, ceiling, floor or desktop.
Addition vintage lamps, in the lighting section we also have a select range of retro neon lights to set your business
Features Retro lamps:
Blown Opalina glass
Metal finishes to choose between Gloss nickel, matt nickel or brass.
Length can be customized on request.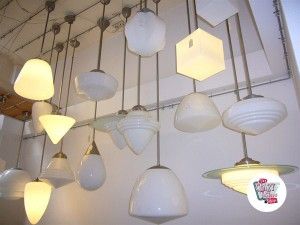 If you have a project and you need several units of any of our models, you should know that we make a discount depending on the quantity. Request your quote without obligation. We send worldwide!