Gas Pump and more
We present our collection of Petrol pumps. The first Gasoline Supplier was invented and sold by Sylvanus F. Bowser en Fort Wayne, Indiana, 5th September 1885. This pump it was not used for automobiles, as they had not been invented yet. It was used for some kerosene lamps and kitchens. Later the petrol pump due to security measures, as well as the incorporation of a hose to directly dispense fuel in cars (already when they emerged). For a time, the term "bowser" was used to refer to a vertical gasoline pump. Although the term is no longer used in United States, Still used sometimes in Australia and New Zealand.
On many early gas pumps, there was a calibrated glass cylinder on top. The desired amount of fuel is pumped into the cylinder as indicated in the calibration. Then the pumping was stopped and the gasoline was released into the customer's tank by gravity. When the metering pumps came into use, a small glass globe with a turbine inside replaced the cylinder.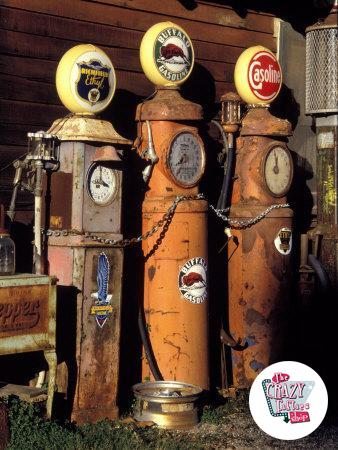 Currently, you can you can find replica Retro Gas Pumps American style (gas pump) at www.thecrazyfifties.es, since we have a wide catalog of suppliers, as well as practically everything you need to set up your own American diner since we have a wide catalog of MRetro American Diner obiliario, Vintage Furniture 50, Jukebox Retro, SGasoline urtidores Retro, Retro lamps and any supplement you may need to supplement Retro Decor of its American Diner.